Unibet Bingo on Mobile
Mobile Bingo
We Love Mobile bingo and our passion for the game was the driving force behind all the improvements we made to our online bingo rooms. You'll experience the same thrill whether you're playing on an Android phone, iOs or any tablet. All our online bingo rooms are mobile responsive, meaning the game fits perfectly on any screen, regardless of the size. We've redesigned the mobile bingo suite with smartphone and tablet users in mind, and so it's now even easier to navigate through the lobby and choose your favourite games to play.

Mobile bingo has taken the gaming market by storm and it's on the fast track to becoming one of the world's most popular mobile games. At Unibet you can play some of the most enthralling bingo games available anywhere on the planet. Unearth hidden treasures in Temple Bingo, race to a swift jackpot in Grand Prix Bingo, or sink a birdie in Fairway Bingo today. Here at Unibet, we know that mobile gaming offers big benefits as well as the potential for big wins. So, if you're looking for a reason to play online bingo on the go, stay tuned, because we've put together this helpful list of reasons why mobile bingo is all the rage!
1. Easy to play on the go
Bingo is a fast-moving game with lots of action, and when played for real money it can offer fast rewards. The best thing about playing mobile bingo is that you'll be able to aim for the jackpot whether you're in a long queue or watching TV! That is the beauty of this game. It's all about the luck of the draw, which means you can sit back and relax as the numbers appear on screen. You don't have to tap the screen or change tactics, which makes bingo app gaming one of the most comfortable activities available on mobile.
2. Instant access
Gone are the days where you'd have to wait for your desktop computer to load so just log-in to the Unibet site and find your favourite online bingo game. Now, with two taps, you're in the bingo lobby, ready to play for one of our lucrative jackpots. What's more, your bingo profile is connected to your umbrella Unibet account, which means you can switch between bingo, casino and sports betting with ease. This grants you the option to win a bet on the sportsbook and use your winnings to play bingo! Or, you could nail a big bingo win and take your funds to the casino for a spin on the slots.
3. Simpler game play
Playing online bingo at Unibet can all be automated. From purchasing tickets to marking the numbers, it's never been simpler! So, you can sit back, relax and let the automatic features do all the work, so you don't have to.
When playing mobile bingo with Unibet, you'll get access to our exclusive beginners' bingo room where new players will benefit from free bingo games for two weeks, to help them get acquainted with the game. To gain entry into another exclusive bingo room, simply purchase €15 worth of Bingo tickets (tickets bought in the Newbie or Grand Slam Room do not count) within 24 hours and get access to the Grand Slam Room where you can enjoy a range of exclusive bingo games with a guaranteed prize pool of €3,300. Available every day between 20:00 & 22:00 CET, tickets range from as little as €0.01 up to €3.
The following are game features you should be aware of when playing online bingo on mobile with Unibet.
BOGOF
Buy one and get one, two or even three free. Look out for the free double tickets on offer in our Bingo rooms. Playing with free bingo cards is a great way to boost your enjoyment and potentially win a mega payout! After all, what's more satisfying than winning off a free game or bet? There are BOGOF bingo promotions running every day of the year and they are easily activated when you enter any bingo game that is offering the deal.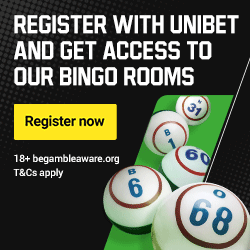 1&2 To Go
There's nothing more frustrating in online bingo than seeing someone else win the big prize when you're agonisingly close to a Full House yourself. That's why 1&2 To Go grants you a split of the pot if you're within touching distance of claiming victory. Get a share of the prize pot if you're only one or two numbers away from the full house.
Fair 4 all
These are games where you can buy only a set number of tickets each, meaning all players have equal chance to win. This is one of the best online bingo games if you have a small budget, or are just starting out in the world of bingo! The equality among players means you are all just as likely to secure a Full House and walk away with the top prize. What's more, it's a perfect platform to learn the ropes with small bets on each bingo ticket, so you won't risk your whole budget in one go.
Roll-on
Get a second chance of winning since the second player with a Full House will be paid as well.
When playing mobile bingo with Unibet you'll be eligible for our loyalty system. Progressing to the next level earns you a spin on the Loyalty Wheel, where you can win vouchers for bingo, free spins for minigames, or even cash.
Mobile Bingo Game Types
75 Ball Bingo
In the 75 Ball Bingo game, every individual ticket has a grid of 25 squares, made up of 5 rows and 5 columns. Each square contains a number, so 25 numbers appear on each ticket apart from the centre square which will have a star icon.
The price of a ticket varies for each bingo game. When tickets are available for purchase, the ticket price is clearly published on the face of each ticket, in the "Purchase Tickets" pop-up window and at the top of the "Ticket Area" of the bingo window.
Once the game has started then tickets will show a unique ticket number.
75 Ball Variant
In the 75 Ball Variant game, you are able to purchase three 75 ball tickets. Every possible number from 1 through to 75 will appear on each full strip. Ticket prices range from €0.50 to €3 in special games. The bingo game then plays out just as any other, with each player ticking off numbers on their tickets as the balls appear.
90 Ball
In the 90 Ball Bingo game, a ticket is an individual grid of 27 squares made up of 3 rows and 9 columns. Each row contains 5 numbers and 4 blank squares. 15 numbers appear on every ticket. This is the classic version of bingo that you might have played in a bingo hall someone in the country, for the chance to win a cuddly toy or a hairdryer as a prize. Well, Unibet Bingo doesn't offer these fun-fair style prizes, but instead provides winners with big payouts. 90 Ball mobile bingo is great for players of all budgets and experience levels, as you can buy tickets from as little as 5p and chase big progressive jackpots.